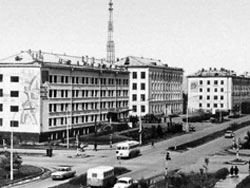 In the VIII century, the territory of Kazakhstan was inhabited by Turkic tribes, who organized meetings in the summer to discuss economic, military and livestock issues. The headquarters of the tribal leaders was located on the territory of modern Astana. Later, trade fairs were held at this place, where a variety of goods were sold. The range of dairy products is the most diverse. This circumstance served as the basis for naming the area Акмол, что в переводе означает «белое изобилие».
The appearance of the settlement dates back to the beginning of the XIX century, when the Russian army organized military campaigns to the south in order to appropriate new territories. As a result of these campaigns, in 1830 the territory of modern Kazakhstan was annexed to the Russian Empire. The military camp was located in the Akmol area, where the Akmola fortress was eventually built. By 1862 , the military fortification was transformed into a city and received the name Акмолинск.

At the beginning of the XX century, the city became an important trade center of Kazakhstan and Southern Siberia. This was facilitated by the advantageous location of Akmolinsk at the intersection of caravan routes between China, Russia and Central Asia. The city continued the tradition of holding annual fairs, which attracted merchants from nearby states. In addition, Kazakh intellectuals, singers, storytellers, poets gathered at the fairs, which allowed the city to also become the cultural center of the region. The development of Akmolinsk as a commercial and cultural center of Kazakhstan contributed to the growth of the city's population.

In the mid-50s of the XX century, during the period of the state program for the development of virgin and fallow lands in the USSR, a Virgin Territory was formed in Kazakhstan, which included five northern regions of the republic. Akmolinsk became the administrative center of virgin lands and in 1961 was renamed the city Целиноград.

After the collapse of the Soviet Union, Kazakhstan declared itself a sovereign republic. Tselinograd was returned to its historical name — Akmola. The approval of Akmola as the capital of the Republic of Kazakhstan took place in 1997. Previously, the capital of Kazakhstan was Alma-Ata. A year later, by presidential decree, the city was renamed Astana.